Did you know there's a Ground Dog Day?
I've been working on putting together a list of all of the different groundhogs and Groundhog Day ceremonies around the world, and I've discovered that there are several "groundhogs" that aren't groundhogs at all. One of these is Shipoke Sheena, a dog who dresses as a bear, pretends to be a groundhog, and predicts the weather by consulting with a NASA meteorologist, on a day named Ground Dog Day.
This event has been going on for the past 5 years, and began when two Shipoke (a neighborhood of Harrisburg) residents, Joanne Kaldy and Kathy Dunbar, were walking their dogs and saw a groundhog, and said "We should have a Groundhog Day event." They received a small budget from their neighborhood association and began planning the event. They soon realized they would not be able to get an actual groundhog for the celebration. After briefly considering a groundhog puppet, they decided on a dog in a "groundhog" costume, and Ground Dog Day was born.
The dog, who goes by Shipoke Sheena for the event, is Joanne's dog Bubble. Bubble, not Bubbles as erroneously reported by some news articles on the holiday, has visited nursing homes as a therapy dog, and appeared in a national calendar of pets who visit/live in nursing homes.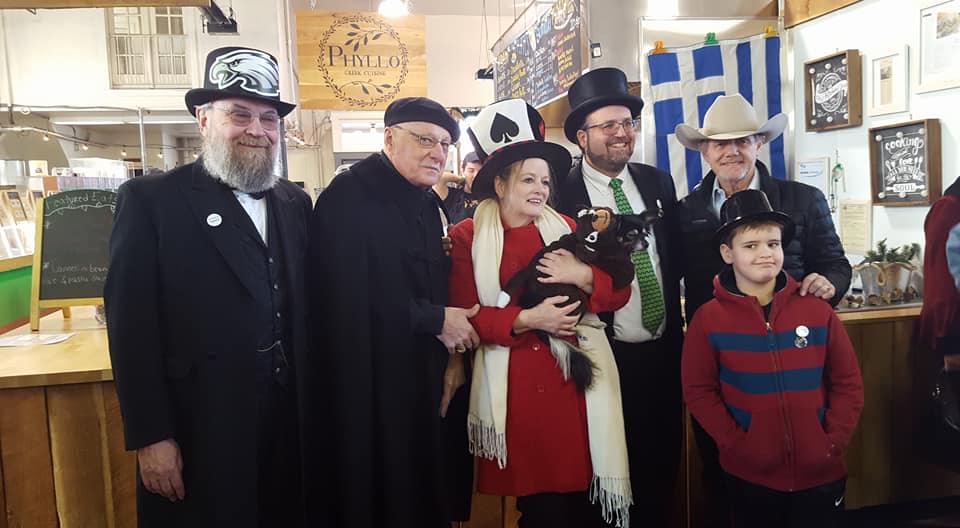 Ground Dog Day, which occurs around Groundhog Day, has grown throughout the years, and most recently was held at the Broad Street Market. Harrisburg Mayor Eric Papenfuse has participated from the start, with local musician Jonathan Frazier providing music. For the last two years, actor William Sanderson (Blade Runner, NewHart, Deadwood, True Blood) has been a special guest at the ceremony. Sanderson, who lives in the city, was approached by Kaldy and graciously agreed to appear, for free, at the celebration and even appear on "GoodDay PA" to promote the event.
A little over a hundred people attended the most recent Ground Dog Day. There were free hats and buttons, as well as coffee and donuts, music, a social hour, and a children's program.
There's no word yet on when Ground Dog Day will occur in 2019, but when we hear anything, we'll let you know, and if you live in the area you can stop by. It sounds like an enjoyable time.
Tags: dog, ground dog day, grounddogday, groundhog day, groundhogday, harrisburg, shipoke, shipoke sheena, shipokesheena