Groundhogs Around The World: Susquehanna Sherman
Since the mid 2000s, a stuffed groundhog named Susquehanna Sherman has been predicting the weather on Groundhog Day to an audience of two people in Pennsylvania.
In 2002 Tim Smith purchased a taxidermied groundhog off of eBay. Tim had always considered Groundhog Day to be an admirable tradition and wanted to have some fun of his own. Tim named the groundhog Susquehanna Sherman, after the Susquehanna River which is located about 2 miles away from where Smith lives. Another name strongly considered for Susquehanna Sherman was Conewago Conrad, based off of the Conewago Creek which is also nearby. By 2006, and possibly as early as 2004, Sherman was providing annual weather predictions on Groundhog Day.
Every year on February 2nd, Sherman is placed on an east-facing pedestal of some sort outside of Smith's house, usually the recycling bin. Tim waits for sunrise and observes whether Sherman casts his shadow, which indicates an early spring, or not, which indicates more winter. Susquehanna Sherman's predictions are based strictly on observation of cloudy or clear at sunrise, and not determined beforehand.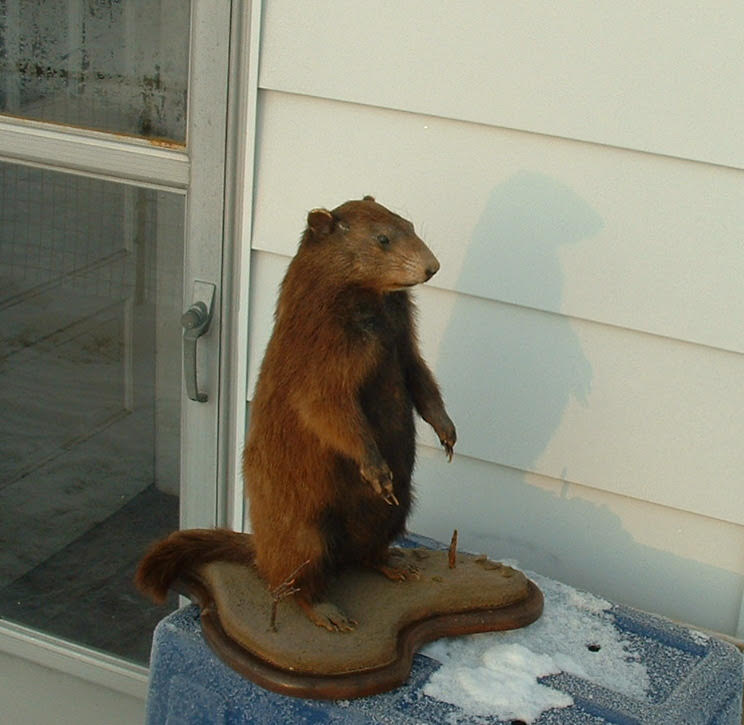 Tim is joined each year by his friend, a former school teacher, and together they comprise the Susquehanna Sherman Groundhog Club. After some pictures are taken of Sherman either casting his shadow or not, the two go back inside and have hot coffee. Tim provides the photos and predictions to several local newspapers.
We here at Countdown to Groundhog day love this story and love Susquehanna Sherman. We hope he keeps providing predictions for years to come.
Tags: groundhog, groundhog day, groundhogday, groundhogs, groundhogs around the world, pennsylvania, susquehanna, Susquehanna Sherman