Groundhogs Around The World: Shubenacadie Sam
Are you aware of Shubenacadie Sam, one of Canada's most powerful weather predicting groundhogs?
Shubenacadie Sam is a groundhog who provides a Groundhog Day prediction every year at Shubenacadie Wildlife Park in Shubenacadie, Nova Scotia. It's not known exactly how long Shubenacadie Sam has been providing Winter forecasts. Records exist of predictions back to 1999, but it's believed that he's been predicting even longer than that, possibly back to the 1980s. (There have been multiple Shubenacadie Sams.)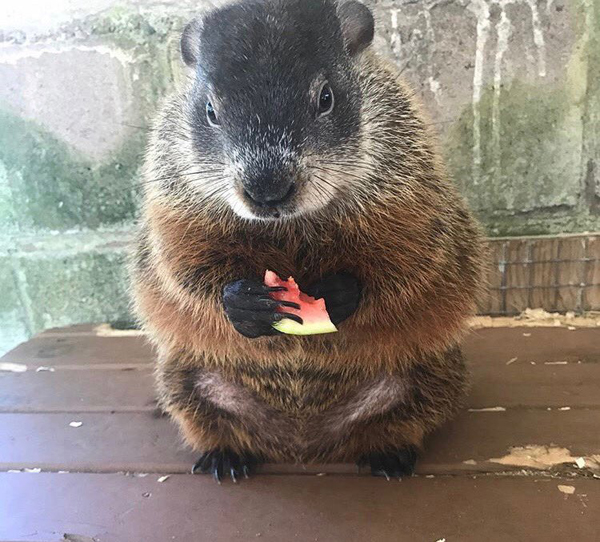 Sam is reportedly the first groundhog to give a prediction on Groundhog Day each year at 8AM sharp Atlantic Time. A town crier and bag pipe player are involved in helping Sam make his proclamation. There is usually live music, free crafts, and hot drinks at the ceremony.
Crowds to see Shubenacadie Sam can vary depending on weather and the day of the week that Groundhog Day falls on, but there are usually several hundred people in attendance at the ceremony. The crowd can grow to over a thousand if the holiday occurs on a weekend. Various Politicians and media usually show up for the prediction.
A dedicated webcam usually goes live in January where you can watch Sam in the weeks proceeding his prognostication.
Shubenacadie Sam is usually pretty peaceful, but made news back in 2018 when, after providing his prediction, he bit a journalist in an escape attempt.
Tags: groundhog, groundhog day, groundhogday, Nova Scotia, Shubenacadie Sam, Shubenacadie Wildlife Park, ShubenacadieSam