Chris Gethard provides early Groundhog Day prediction
While it's traditional for most Groundhog Day prognosticators to provide their predictions on the holiday itself, some forecasters give their prognostications on another day entirely.
This is the case for popular comedian Chris Gethard this year, also known as West Orange Gethard. Gethard is a human who dresses up as a groundhog pretending to be a weather predicting chicken pretending to be a groundhog.
Since Groundhog Day falls on a Tuesday this year, Gethard chose to forecast the weather a day early. For those that don't know, Tuesday is the day that Gethard's podcast, Beautiful/Anonymous, is released each week. The host has to spend the entirety of each Tuesday emailing the mp3 file of the show to people who don't have podcatchers or the Internet.
This year during his prognostication ceremony, Chris saw his shadow, which frightened him. He thus promptly ran back to the abandoned Blacksmith hut at Waterloo Village where he resides, signaling 6 more weeks of Winter.
Below is an artist's rendition of the event, provided by goopgoop. (Thanks goopgoop!)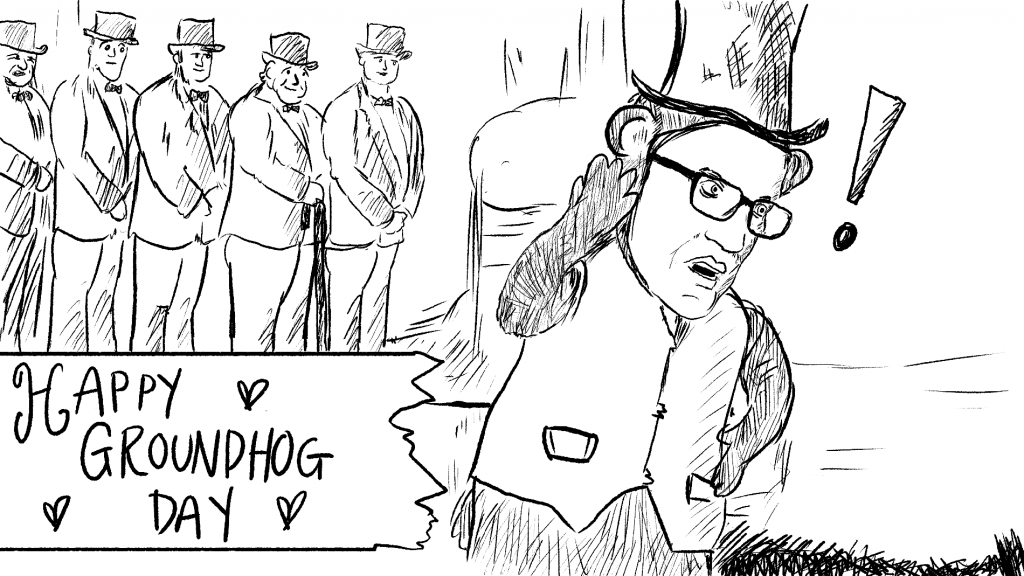 Be sure to keep an eye on our Groundhog Day 2021 predictions page over the next few days to find out what the more powerful Groundhog Day forecasters predict this year.
Tags: beautiful stories from anonymous people, beautiful/anonymous, chris gethard, gethard, groundhog day, groundhog day 2021, groundhogday, groundhogday2021